This little tern was sighted in Ilfracombe in April 2018.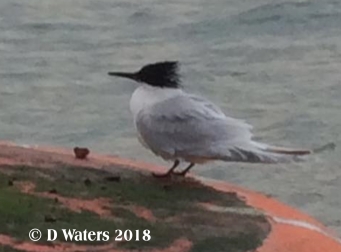 Distinguishable by its messy black cap and largely black beak, the sandwich tern can be seen all around the UK coast although is resident in only specific patches. It is named, not after any cheese and pickle creation, but after Sandwich in Kent where it was seen. This tern was spotted in North Devon simply sitting calmy for a lenthy period of time. As they are not resident here, perhaps it was resting as it passed through.
For more, please visit our sea birds page.